COASTER-net.com > Blogs > August 2012 > Guardian of the Gate
Cedar Point's New Wing Coaster
August 16, 2012 - biZarRo
Cedar Point has always been known as the park with some of the most thrilling coasters around. Arguably, the one ride that really got Cedar Point going in this aspect was the 1994 inverted coaster Raptor, the first coaster at Cedar Point with inversions since Corkscrew. Some might think it was 1989ís Magnum XL-200, and they may be right.
© Cedar Point
Gatekeeper's Layout
Magnum was the first coaster to breach the 200í barrier, and it was also very thrilling, but it still didnít get the park moving in inversions. Raptor did that, and Mantis also helped with that when it opened in 1996.
The next coaster at Cedar Point to feature inversions didnít open until 11 years after Mantis and its four inversions debuted. Maverick, which opened in 2007, included two inversions in its layout, but it wasnít the focus. The ride was more about speed and fast transitions, as well as that amazing 95 degree first drop.
© Cedar Point
Gatekeeper's epic opening element.
And now the wait has almost ended for the next coaster at Cedar Point to have not just one inversion, but six inversions in its layout. Gatekeeper is finally announced, and the hype is unbelievable. Not only does this up the inversion count for the park from 15 to 21, but it is also the first coaster not to be built by Intamin in the last 13 years. Cedar Pointís contract with them is over, and now a new manufacturer is stepping up their game. B&M is the manufacturer behind Gatekeeper also being the builder of two other coasters at the park: Raptor and Mantis.
Gatekeeper will be the fifth Wing Coaster built by B&M. In 2011, B&M premiered their Wing Coaster at Gardaland in Italy, with Raptor. Raptor featured three inversions and also included an underground station and watersplash. Raptor isnít all about inversions, but the three it does have definitely added to the flying experience. Coupled with some pretty awesome theming, Raptor was a very stellar ride for being sort of a ďprototypeĒ for B&M.
In 2012, B&M opened three other Wing Coasters. Swarm at Thorpe Park opened first in March. The ride was the first to premier B&Mís new dive loop idea. When coming off the lift, the train immediately rotates upside down and dives below the lift hill.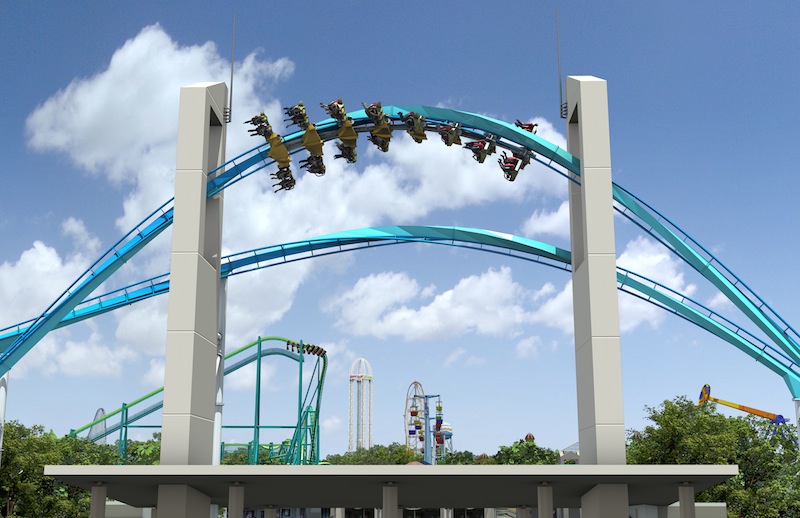 © Cedar Point
The "Keyhole" element on Gatekeeper.
What follows is one of the most unique layouts ever seen on any coaster. After a zero g roll, riders traverse the first inclined loop built since 1998ís Riddlerís Revenge at Six Flags Magic Mountain. After a turnaround, riders flip through the inclined loop in the form of a flat spin. After another 180 degree turn, the train navigates an inline roll where the ride ends.
Wild Eagle at Dollywood opened next. Enthusiasts, including myself, were especially excited about Wild Eagle, as Dollywood is known for their amazing coasters. This is the only B&M Wing Coaster that I have had the pleasure of riding. I loved the ride, but it didnít feel like a Wing Coaster. Swarmís unique opening dive loop was not included in Wild Eagle which slightly disappointed me. I also felt like the ride could have lasted for much longer. One aspect I do love about Wild Eagle, however, is its immelman. When B&M first designed an immelman, they designed it as the opposite of a dive loop, with the twist occurring after going up a half loop. Wild Eagleís immelman is different because it twists in the opposite direction of the way the track lands after the twist, very much like Krake at Heide Park.
The last B&M Wing Coaster to debut in 2012 was X-Flight at Six Flags Great America. X-Flight did include Swarmís dive loop at the top of the lift as well as Wild Eagleís immelman. One new thing that X-Flight included was a barrel roll going through a structure, sort of like a keyhole. This is one element that propelled the feeling of the Wing Coaster. More near misses and less graceful elements is the standard that X-Flight set.
And now Cedar Point is catching Wing Coaster-fever. Just like Hyper Coasters in the late 90ís-early 2000ís and Inverted Coasters in the early 90ís, Wing Coasters are now the major trend in the coaster industry. Gatekeeper is going to set the new standard of Wing Coasters. Many people are comparing it to Tatsu at Six Flags Magic Mountain. Tatsu rewrote the design book for Flying Coasters. After Tatsu was built, Flying Coasters went taller, faster, and longer. They also became more inversion filled and got riders on their backs again with Starry Night Ripper at World Joyland and its 540-degree rotating zero g roll. Gatekeeper at Cedar Point is rewriting the design book for Wing Coasters.
© Cedar Point
A look at Gatekeeper's beautiful trains.
Theyíre now most likely going to get larger, faster, longer, and with more inversions and near misses.
At the announcement on Monday, before they officially announced the name, a cloaked figure stood on top of the entrance building and epically stated the rideís statistics and the like. When he was done, John Hildebrandt announced the name, Gatekeeper, and the cloak figured said, ďWait, you didnít tell them the whole story!Ē but Hildebrandt continued with his speech. Iím guessing there is something else thatís going to happen with Gatekeeper besides the ride and the new entrance plaza.
On to the ride itself, it looks awesome! No other words can describe it; it includes Swarms dive loop, X-Flightís near misses, and Wild Eagleís immelman. It seems like a mixture of the 2012 Wing Coasters but also includes its own ideas. I also love that itís not really very twisty and more out-and-back, more like what a gatekeeper would do to guard an entrance.
I love how fitting the name is, and how itís going to dominate the front of the park. Itís going to be 170 feet tall and 4,100 feet long, so itís going to be the tallest, fastest, and longest Wing Coaster which will attract a lot of people for its record-breaking nature. This wonít include the CP fanboys that are complaining that itís not the 500í, 150 MPH rocket coaster that they wanted. I know the general public is going to love it: ďOh, look a new really tall coaster that goes through buildings and does 20 loopity-loops and you sit on the side! Letís go ride it!Ē Enthusiasts are happy that the park finally has another B&M and a coaster with a lot of inversions. So Cedar Point managed to satisfy everyone except the CP fanboys who wonít ever be satisfied.
Cedar Point also announced a while ago that the entrance plaza was being modified, but on Monday they announced why.
© Cedar Point
The Guardian of the Gate
The current entrance plaza has been around for a long time, and itís time for something new. Hildebrandt reminisced that it is exactly the same as it was back when he was a ride operator back in 1969. Gatekeeper is going to be flying through keyholes placed on top of the ticket area. The ride is also supposed to be really quiet, so that the employees can help guests without interruption from a coaster flying overheard. Cedar Point also said that everything will be really easy to get to and will have better access for season pass processing, group sales, etc.
The ride itself looks amazing. The opening dive loop goes directly into an immelman which is almost a Norwegian loop, but not quite. It then flies high into an airtime hill, a first for a Wing Coaster. What follows is just indescribable: a huge flat spin, a zero g roll going through the keyholes, a dive loop similar in shape to Wild Eagleís immelman, and an inline twist next to the keyholes.
Gatekeeper is looking good, and footers are planned to be poured in early October. I know everyone else (excluding CP fanboys) is extremely excited for it, and I will most definitely be following construction this offseason. Is it a worthy replacement of Disaster Transport and Space Spiral? Yes. Is it going to make a huge opening statement at the front of the park? Oh yes. Is it going to totally revolutionize the Wing Coaster standard? Most definitely yes! What else would you expect from the Guardian of the Gate?