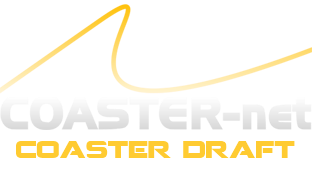 It's that time of year again. Time for a Coaster Draft!That's right, its your chance to hand pick your rides to build your very own park. However, this time we'll have a splash of some new elements.
New for this edition is that your park must include a water park. In order to facilitate this each contestant must draft slides in order to create a total theme/amusement park experience with both coasters and slides. Essentially a park like Michigan's Adventure, but of course on a larger scale.
Rules:
The order of picks will be randomly assigned once everyone is signed up
There will be 15 rounds
Each park must contain a minimum of 3 slides. A slide complex will count as one slide
Racing/Dueling coasters will count as 1 coaster
The goal is to create the best overall park
You may miss up to 3 turns. Missing 4 turns will disqualify you
The contest will be judged via a poll
Ride Selection:
Every participant will have 24 hours from the time of the previous participant's selection to pick.
When selecting your ride, please announce who is going next and what time they must submit their pick. For example "Tyler Carlton has until 10:12 pm EST on Wednesday, May 30 to make their pick.
EVERYTHING WILL BE IN EASTERN STANDARD TIME
You may select no more than 3 coasters from the same park
You may select no more than 2 slides from the same park
When selecting your ride please include the ride name, park name, RCDB link. An embedded YouTube link is preferred but not required
Pick order will invert every round.
I will be more than happy to field any questions you may have.
And with this post I formally open up sign ups for the contest. SIGN UP WILL CONTINUE THROUGH MIDNIGHT EST ON SATURDAY, JUNE 2nd.
On the morning of June 3rd I will randomize the order of participants and post the list.
The first participant's selection time will begin at 12:01 AM on Monday, June 4th. They will have until 12:01 AM on Tuesday, June 5th to make their selection.
And that's it! SIGN UP TODAY!
Yet to Pick
Valid Pick - Coaster
Valid Pick - Slide
Missed Pick
Draft Order: Round 1
Mike Strobel - Leviathan - Canada's Wonderland

TexasCyclone - Missed Pick

MontagnaMagica- Dodonpa - Fuji-Q Highland

dmillz- Skyrush - Hersheypark

Nessie

- Dropped

MorganFan - Behemoth - Canada's Wonderland

CFguy - Missed Pick

SethDawg17 - Millennium Force - Cedar Point

Thunderhead -Shambhala - Port Aventura-

Ryan Shrout - Thunderhead - Dollywood

CoasterKings908 - Shockwave - Six Flags Over Texas

ZacharyFakterowitz -Phantom's Revenge - Kennywood
Round 2:
Zachary Fakterowitz - El Toro - Six Flags Great Adventure

CoasterKings908 - Goliath - Walabi Holland

Ryan Shrout - Thunderation - Silver Dollar City

Thunderhead

- OzIris - Park Asterix

SethDawg17

- Montu - Busch Gardens Tampa

CFguy

- Magnum XL-200 - Cedar Point

MorganFan

- Fahrenheit - Hersheypark

dmillz

- Phoenix - Knoebel's

MontagnaMagica - Kawasemi - Tobu Zoo Park

TexasCyclone - Wild Eagle - Dollywood

Mike Strobel - Kraken - Sea World Orlando
Round 3:
Mike Strobel - Manta - SeaWorld Orlando

TexasCyclone

- Second Missed Pick

MontagnaMagica

- Starry Sky Ripper / Sky Scrapper - Joyland Park

dmillz - Tatsu - Six Flags Magic Mountain

MorganFan - Nemesis - Alton Towers

CFguy - Shivering TImbers - Michigan's Adventure

SethDawg17 - Fireball - Happy Valley

Thunderhead - Wodan Timbur Coaster - Europa park

Ryan Shrout - Lightning Racer - Hersheypark

CoasterKings908 - Constrictor - Wet 'n' Wild Phoenix

ZacharyFakterowitz - Space Mountain - Walt Disney World's Magic Kingdom
Round 4
Zachary Fakterowitz - Texas Giant- Six Flags Over Texas

CoasterKings908 - Apocalypse - Six Flags Magic Mountain

Ryan Shrout - Storm Runner - Hersheypark

Thunderhead - Vanish Point - Water Country USA

SethDawg17 - First Missed Pick

CFguy

- Raptor - Cedar Point

MorganFan - Cyclone - Coney Island

dmillz - Talon - Dorney Park

MontagnaMagica - Dauling Dragon - Happy Valley Wuhan

TexasCyclone - Mammoth - Holiday World Splashin Safari

Mike Strobel - The Voyage

- Holiday World
Round 5
Mike Strobel - Dragon's Revenge - Schlitterbahn

TexasCyclone - Cheetah Hunt - Busch Gardens Tampa

MontagnaMagica

- Colossus - Thorpe Park

dmillz - Joris en de Draak - Efteling

MorganFan - Blue Fire - Europa Park

CFguy - Steel Dragon 2000 - Nagashima Spa Land

SethDawg17

- Second Missed Pick

Thunderhead

- Verbolten - Busch Gardens Williamsburg

Ryan Shrout - Wicked Twister - Cedar Point

CoasterKings908 - Shock - Rainbow MagicLand

ZacharyFakterowitz - First Missed Pick
Round 6
Zachary Fakterowitz - Wildebeest - Holiday World

CoasterKings908 - Aqua Loop - Wet N' Wild Gold Coast Australia

Ryan Shrout - Tornado - Sarkanniemi

Thunderhead - - Mega-Lite - Happy Valley

SethDawg17 - Maverick - Cedar Point

CFguy - X Flight - Six Flags Great America

MorganFan - Master Blaster - Schlitterbahn -

dmillz - Sky Rocket - Kennywood

MontagnaMagica - Takabisha - Fuji-Q Highland

TexasCyclone Prowler - Worlds of Fun

Mike Strobel - Insano - The Beach
Round 7
Mike Strobel - Black Hole: The Next Generation - Wet N' Wild Orlando

TexasCyclone - Raging Bull - Six Flags Great America

MontagnaMagica - Titan - Six Flags Over Texas

dmillz

-

Crush 'N' Gusher - Disney's Typhoon Lagoon

MorganFan

- Scorpion's Tail (slide complex) - Noah's Ark

CFguy - Funnel of Fear - Michigan's Adventure

SethDawg17Leap of Faith - Atlantis Dubai

Thunderhead

- First Missed Pick

Ryan Shrout

- First Missed Pick

CoasterKings908

- Little Dipper - Six Flags Great America

ZacharyFakterowitz - Thunderbolt - Kennywood
Round 8
Zachary Fakterowitz - Volcano the Blast Coaster - Kings Dominion

CoasterKings908 - Boomerang - Wild Adventures

Ryan Shrout - Triple Twist - Great Wolf Lodge, Mason

Thunderhead - Sheikra - Busch Gardens Tampa

SethDawg17 - Cliffhanger - Schlitterbahn Galveston

CFguy - The Beast - Kings Island

MorganFan - Oblivion - Alton Towers

dmillz - Griffon - Busch Gardens Williamsburg

MontagnaMagica - Sequoia Adventure - Gardaland

TexasCyclone - Black Anaconda - Noah's Ark Waterpark

Mike Strobel - Aqua Loop - Carribean Bay - Everland
Round 9
Mike Strobel - Disco H20 - Wet 'N Wild

TexasCyclone - Untamed - Canobie Lake Park

MontagnaMagica - First Missed Pick

dmillz - Zoombabwe - Splashin' Safari

MorganFan - Hellcat - Timber Falls

CFguy

- Second Missed Pick

SethDawg17

- Kentucky Rumbler - Beech Bend

Thunderhead - Alpengeist - Busch Gardens Williamsburg

Ryan Shrout - Thunder Falls - Geauga Lake

CoasterKings908 - Tornado - Six Flags Hurricane Harbor

ZacharyFakterowitz -

Big Grizzly Mountain Runaway Mine Cars - Hong Kong Disneyland
Round 10
Zachary Fakterowitz - Kumba - Busch Gardens Tampa Bay

CoasterKings908 - Mind Eraser - Six Flags New England

Ryan Shrout - Whirlwind - Seabreeze

Thunderhead - Snow Stormers @ Blizzard Beach

SethDawg17 - Double Barrel Drop @ Great Wolf Lodge Pocono

CFguy - Scorpion - Busch Gardens Tampa

MorganFan - Dragon in Snowfield - Happy Valley Chengdu

dmillz - Swirl City Slide Complex - Darien Lake's Splashtown

MontagnaMagica - 2nd Missed Pick

TexasCyclone - - Black Mamba - Phantasialand

Mike Strobel - Storm Chaser - Wilderness at the Smokies
Round 11
Mike Strobel - Rapids Racer - Rapids Water Park

TexasCyclone

- 3rd Missed Pick

MontagnaMagica - L2 - Wave in Wörgl

dmillz - Raven - Holiday World

MorganFan - Demon - Six Flags Great America

CFguy - Disaster Transport - Cedar Point

SethDawg17 - Bizarro - Six Flags New England

Thunderhead - Mystery Mine - Dollywood

Ryan Shrout - Thor's Hammer - Djurs Sommerland

CoasterKings908 - Iron Shark - Galveston Island Historic Pleasure Pier

Zachary Fakterowitz - Lisebergbanan - Liseberg
Round 12
Zachary Fakterowitz - Powder Keg - Silver Dollar City

CoasterKings908 - Master Blaster Water Coaster - Mesa Golfland Sunsplash

Ryan Shrout - Hoosier Hurricane - Indiana Beach

Thunderhead - 2nd missed Pick

SethDawg17 - Wooden Warrior - Quassy

CFguy

- Summit Plummet @ Disney's Blizzard Beach

MorganFan

- Hammerhead & Barracuda Slide Complex - Hurricane Harbor @ SFGAm

dmillz

- Hurricane - Wilderness Lodge Klondike Kavern

MontagnaMagica

- Aftershock - Silverwood Theme Park

TexasCyclone

- 4th missed pick (Disqualified)

Mike Strobel

- Pipeline Peak - Waterworks @ Kings Dominion
Round 13
Mike Strobel

- Loch Ness Monster - Busch Gardens Williamsburg

TexasCyclone

MontagnaMagica - Taboo Tower - Six Flags Hurricane Harbor, Valencia

dmillz - Viper - NRH20

MorganFan

- Howlin' Tornado @ Great Wolf Lodge (which one?)

CFguy

- Dragster H20

SethDawg17

- Nitro - Six Flags Great Adventrue

Thunderhead

- Hades - Mt. Olympus

Ryan Shrout

- Lightning Falls/Thunder Gorge - Seven Peaks Salt Lake

CoasterKings908

- Skipped Pick (Park Complete)

ZacharyFakterowitz

- The Storm - Wet 'n Wild Orlando
Round 14
Zachary Fakterowitz

- Bomb Bay - Wet 'n Wild Orlando

CoasterKings908

- Skipped Pick (Park Complete)

Ryan Shrout

- Shipwreck Island - Whale's Tale

Thunderhead

- Big Daddy Falls - Water Country USA

SethDawg17

- Brainwash - Wet 'n Wild Orlando

CFguy - Rattler - Six Flags Fiesta Texas

MorganFan - Han's Hideout - Schlitterbahn New Braunfels

dmillz - Hurricane Mountain - Six Flags Hurricane Harbor New Jersey

MontagnaMagica

- 3rd Missed Pick

TexasCyclone

Mike Strobel

- Great White - SeaWorld San Antonio
Round 15
Mike Strobel

- Poseidon - Europa Park

TexasCyclone

MontagnaMagica

- King Cobra - Hurricane Harbor (New Jersey)

dmillz

- Iron Dragon - Cedar Point

MorganFan

- Joust - Dutch Wonderland

CFguy - Top Thrill Dragster - Cedar Point (Too many Cedar Point Coasters)

SethDawg17 - Flight Deck - Kings Island

Thunderhead - East Coast Waterworks - hershey Park

Ryan Shrout - Hollywood Dream - The Ride

CoasterKings908

- Skipped Pick (Park Complete)

ZacharyFakterowitz

- Skipped Pick (Park Complete)
Free Agent Round
Zachary Fakterowitz - No Trade

CoasterKings908 - No Trade

Ryan Shrout - No Trade

Thunderhead

- Traded Mega-Lite for Dragon Khan

SethDawg17

- No Trade

CFguy

MorganFan

- No trade

dmillz - No Trade

MontagnaMagica

Mike Strobel

- No Trade
Write-ups
Zachary Fakterowitz

CoasterKings908

Ryan Shrout

Thunderhead

SethDawg17

CFguy

MorganFan

Danny Miller

MontagnaMagica

Mike Strobel